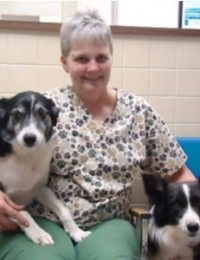 Born and raised in Sweetwater, Tx, Brenda graduated from Sweetwater High School in 1973. She graduated from Texas A&M University with a degree in Biomedical Science in 1977.
Brenda has worked at Sweetwater Veterinary Hospital since 1985. She assists the Dr's during surgeries, vaccinations, and phlebotomy and is exceptional at nail trims. Have a dog that is difficult to trim its nails? Brenda can get it done!
Hobbies are dog shows, dog shows, and dog shows. She loves to travel to dog shows with her sisters and her niece. She competes in conformation, agility, obedience and rally with agility being her favorite.
She has a variety of animals at home including sheep, chickens, ducks and a goose, as well as dogs.